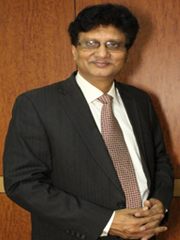 Joy Saxena
FCA, FCMA
A Fellow Chartered Accountant (FCA), Associate Cost & Works Accountant (CMA) and Post Graduate Diploma in Business Administration (PGDBA) with rich experience of 34 years in diversified industries in strategies, planning and financial functional areas. Have been responsible for big Capacity Expansions, Direct, Indirect and International Taxations, Fund raisings (Debt, IPO, PE deals, QIP and FCCBs), Corporate Accounting, Budget & Finance, Administration, MIS, Cost management, Legal matters, secretarial controls, Company law matters, Corporate Governance, Investor's relations and implementing three ERPs.
He have working experience of Large Manufacturing Companies, India's largest Real estate Group, Infra structure (EPC as well as BOT), Power (IPP and EPC), Shipping Business, Sahara Group.
He is exposed to good working knowledge with Big Indian Companies and MNC's. International and Domestic JV's (Have dealt many Domestic and International JV negotiations), New business developments, Structuring of deals, Direct interactions with various stakeholders-- investors/media/broking houses/shareholders/Bankers have been core responsible areas.
Have handled and successfully completed many International Joint Ventures arrangements and MOU's. Have developed excellent connections and contacts with Rating agencies, Merchant / Investment Bankers / Banks / PE funds. He has been on leadership roles of various large corporate groups including – DLF, Vedanta , Jindal ITF, Techno Electric and Vikram Solar etc.